PARIS and CAMBRIDGE, Massachusetts, September 1, 2016 /PRNewswire/ —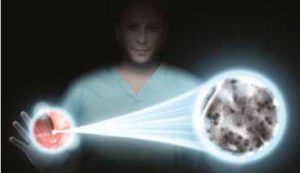 Mauna Kea Technologies (Euronext: MKEA, OTCQX: MKEAY) inventor of Cellvizio®, the multidisciplinary confocal laser endomicroscopy platform, today announced that the American Society of General Surgeons (ASGS) endorsed Cellvizio® as integral to the comprehensive assessment and therapeutic decisions for the treatment of Barrett's esophagus and Gastroesophageal Reflux Disease (GERD). The Position Statement from the ASGS will be available on the ASGS website.

Commenting on the endorsement, Dr F. Paul (Tripp) Buckley III, Surgical Director, The Heartburn & Acid Reflux Center at Baylor Scott & White Health in Central Texas, and Member of the Board of Trustees of the ASGS, stated, "With esophageal cancer rates having increased by 600% since the introduction of powerful acid reducing medications, the accurate detection and determination of extent of Barrett's is greatly enhanced by Cellvizio®. We believe that physicians and surgeons who are fighting every day to relieve patients from GERD and to prevent them from later developing Barrett's Esophagus, a condition that could lead to esophageal cancer, need and deserve to have access to Cellvizio® in order to obtain a comprehensive assessment of the extent of disease and to make real-time therapeutic decisions."
Gastroesophageal Reflux Disease, or GERD, is a chronic form of heartburn, which according to a Harvard Medical School Report[1], affects 10% of Americans on a daily basis. Other sources[2] report that GERD affects 18% of U.S. adults weekly and almost 44% of U.S. adults monthly. In its statement, the ASGS highlights that patients with GERD have a 10-15% risk of developing Barrett's Esophagus, a condition associated with a 30-50% increased risk of developing cancer. GERD was responsible for 8.9 million hospital visits in the U.S. in 2012 and there was an estimated 6.9 million upper endoscopies performed that year, a number that is steadily growing[3].
Mauna Kea Technologies' internal estimates suggest that 5 million upper GI endoscopies performed annually in the U.S. could benefit from the use of Cellvizio®. These procedures are currently reimbursed with CPT codes 43206 and 43252.
"We are extremely gratified by the ASGS's position statement on Confocal Laser Endomicroscopy. Combined with the American Gastroenterological Association's 2015 white paper  which deemed the use of Confocal Laser Endomicroscopy to be appropriate for trained physicians as an alternative to random biopsies, we now have two important clinical endorsements for the use of Cellvizio® in the treatment of GERD and Barrett's Esophagus," declared Sacha Loiseau, Ph.D., Founder and Chief Executive Officer of Mauna Kea Technologies. "We are confident this additional position statement will be a catalyst for accelerated utilization of Cellvizio® in U.S. anti-reflux centers and hospitals, an application which has already proven to be very dynamic."
About the American Society for General Surgery
The American Society of General Surgeons (ASGS) is the only national surgical specialty society exclusively representing General Surgeon Specialists. The ASGS represents the socioeconomic, political, scientific, ethical, and professional interests of General Surgeon Specialists. For more information, visithttp://www.theasgs.org/index.html.
About Mauna Kea Technologies
Mauna Kea Technologies is a global medical device company focused on eliminating uncertainties related to the diagnosis and treatment of cancer thanks to real time in vivo microscopic visualization. The Company's flagship product, Cellvizio®, has received clearance to sell a wide range of applications in more than 40 countries, includingthe United States, Europe, Japan, China, Canada, Brazil and Mexico.
For more information on Mauna Kea Technologies, visit http://www.maunakeatech.com
References
1. Friedman L. The Sensitive Gut. A Harvard Medical School Special Health Report. 2010.
2. Shaheen N, Ransohoff DF. Gastroesophageal reflux, Barrett's esophagus and esophageal cancer. Journal of the American Medical Association. 2002; 287: 1972-1981.
3. Burden of Gastrointestinal Disease in the United States: 2012 Update. Doi: 10.1053/j.gastro.2012.08.002
4. AGA White Paper: Advanced Imaging in Barrett's Esophagus http://www.cghjournal.org/article/S1542-3565(15)01306-3/abstract
Disclaimer
This press release contains forward-looking statements concerning Mauna Kea Technologies and its activities. Such forward looking statements are based on assumptions that Mauna Kea Technologies considers to be reasonable. However, there can be no assurance that the anticipated events contained in such forward-looking statements will occur. Forward- looking statements are subject to numerous risks and uncertainties including the risks set forth in the registration document of Mauna Kea Technologies registered by the French Financial Markets Authority (Autorité des marchés financiers (AMF)) on June 13, 2016 under number R.16-054 and available on the Company's website (http://www.maunakeatech.com), and to the development of economic situation, financial markets, and the markets in which Mauna Kea Technologies operates. The forward-looking statements contained in this release are also subject to risks unknown to Mauna Kea Technologies or that Mauna Kea Technologies does not consider material at this time. The realization of all or part of these risks could lead to actual results, financial conditions, performances or achievements by Mauna Kea Technologies that differ significantly from the results, financial conditions, performances or achievements expressed in such forward-looking statements.
This press release and the information it contains do not constitute an offer to sell or to subscribe for, or a solicitation of an order to purchase or subscribe for, Mauna Kea Technologies shares in any country.
Mauna Kea Technologies
Benoit Jacheet
CFO
[email protected]
United States
Zack Kubow / Lee Roth
The Ruth Group
646-536-7020 / 7012
[email protected] / [email protected]
U.S. Media
Christopher Hippolyte
The Ruth Group
646-536-7023
[email protected]
France and Europe
NewCap – Investor Relations
Florent Alba
+33 (0)1 44 71 94 94
[email protected]
This is a disclosure announcement from PR Newswire.
SOURCE Mauna Kea Technologies
To view the original press release, please click here