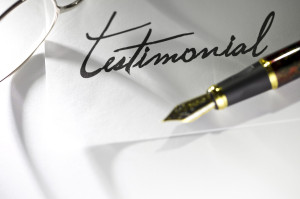 For decades, I have suffered almost constantly from heartburn (technically called "acid reflux"). Often, I felt as though I was having a fire in my stomach or esophagus or even a heart attack. I slept with the upper half of my body at a 45-degree angle. Often, I would wake with burning pains and fail to drop back asleep. Life was really miserable.
I went to see numerous GI doctors ­ including the one with the best reputation in the County. All of them prescribed various pills. I took those pills along with others and obtained some relief. That great relief promised on those colorful TV heartburn ads never happened to me.
My heartburn continued to become worse and worse. Tums and the other pills were my constant companions. They were in every purse, the dash in every car, etc.
Every six months, I got re-scoped with no new findings and no new solutions. Eventually, I became resigned to living the rest of my life with this almost continuous pain.
In addition to the pain, I had to watch everything that I ate. Anything with acid was a forever "No No". I couldn't eat spicy food without having an intense reaction. I haven't eaten Mexican food for years. My favorite hot dishes were too dangerous. My menu of safe foods became very, very limited.
And then ­ and then, I heard about a surgeon in Walnut Creek, CA, who was doing a surgical procedure that corrected most heartburn problems. One of my friends knew him through his medical connections and gathered up some information for me. At this point in my life, surgery for anything is a last resort. I was cautious and careful. I did more work on researching the surgeon ­ Dr. Wilson Tsai.
I found that Dr. Tsai is a Board Certified Thoracic Surgeon with a sub-specialty in GI procedures ­ especially the Nissen and Linx procedures for heartburn. Eventually, I found that he probably does more of these procedures than any other surgeon in our state. After more digging, I discovered some of his happy patients who were freed from their heartburn pains.
Then, I flew to Walnut Creek and met Dr. Tsai. I was greatly impressed with his very caring attitude, his obvious knowledge and experience, and his willingness to completely answer all of my many questions. I left convinced that he might be able to end my constant pain. I took awhile to decide to risk having the surgery. Remember, I am cautious.
As part of the pre-op tests, Dr. Tsai did another endoscopy exam. He discovered that I have a pre-cancerous development called Barrett's Esophagus which is very common to heartburn sufferers. Eventually, Barrett's can produce the very deadly esophageal cancer. Barrett's can be cured by 3 simple, quick, and painless ablation procedures. Essentially, this eliminates the cancer threat.
Earlier this year, Dr. Tsai did the surgery. Since that day, ALL of my heartburn pains have been GONE. I am free ­ free at last.
All of my pills are gone. My nights are no longer interrupted. I can eat anything without worrying about a crippling attack. Life is wonderful!
A word or two about the surgery ­ the entire procedure took less than two hours. I had three tiny incisions on my tummy. For several days after the procedure, I had some pain from the gas that the anesthesiologist pumped into my stomach and chest area. Gas X and walking eliminated this.
I also have fibromyalgia, which makes my situation more complicated than normal. So, I stayed in the hospital for an extra day. Normally, the hospital stay after a Nissen is only overnight. The nurses were great!
I was on a clear liquid diet for a week and then progressed to yogurts and other heavier liquids for another week. I didn't have breads or pastas for several weeks. Giving up all of these things was a tiny price to pay for having no pain. An unstated bonus was losing 10 unneeded pounds during the diet weeks.
My GI doctor was shocked that I would leave him for this "very risky and unproven surgical procedure".  My research showed that the procedure has been approved for more than ten years. The surgeons with the best results are those who do many Nissens every year. Dr. Tsai may do more than anyone else in California.
Based on my experience I can strongly recommend consulting Dr. Tsai. He is a very experienced, extremely caring and very attentive surgeon. He very quickly assessed all of my particular personal healthcare limitations and created a comprehensive treatment plan that made me feel very comfortable that I was in wonderful hands. His knowledge of Acid Reflux and the many related problems still amazes me.
Thank you, Dr. Tsai, for giving me back my life. I am so very happy with my results.
Joyce