Director: Wilson Tsai, MD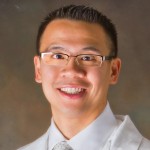 Dr. Wilson Tsai graduated from medical school at the University of Medicine and Dentistry of New Jersey in 1999 and continued his postgraduate surgical training in General Surgery at the Robert Wood Johnson Hospital. Subsequently, he was chosen to complete a Fellowship in Surgical Oncology at the National Cancer Institute, a branch of the prestigious National Institutes of Health. He realized his passion for treating thoracic diseases and decided to pursue a career as a specialist in Thoracic Surgery and Thoracic Oncology. He was selected to complete his Thoracic Fellowship at The University of Pittsburg Medical Center, one of America's largest thoracic surgery programs. After that, he expanded his surgical training with another Fellowship in Thoracic Oncology at the famous Memorial Sloan Kettering Cancer Hospital in New York City. Next, he returned to the University of Pittsburgh as a Clinical Instructor in Minimally Invasive Thoracic Surgery, where he taught Surgical Residents and Fellows in the academic setting.
For family reasons, Dr. Tsai decided to practice in the Bay Area of Northern California. Within his first year of practice, Dr. Tsai was appointed as the Co-Director of the Thoracic Program at John Muir Health and soon after as Chair of the Thoracic Division at Sutter Eden Medical Center in Castro Valley He is Board Certified in Cardiothoracic Surgery, and has been a member of American Association for Thoracic Surgery since 2006.
His passion for treating esophageal diseases led him to establish himself as the Founder and Medical Director of the innovative Heartburn Center of California that provides both traditional and the latest proven innovations in digestive surgeries. His center is the busiest Heartburn Center in Northern California. Dr. Tsai was the first surgeon in Northern California to use the wondrous new LINX® device to cure heartburn or acid reflux, a technology that originated at the famed Mayo Clinic. Currently, he does more curative heartburn procedures than any other surgeon in Northern California. He has done more than 1,000 of these procedures to date. His clinical success rates and patient ratings of his care are outstanding. The Heartburn Center has gained a strong regional reputation, even attracting the occasional patient from across the country and overseas, for eliminating the suffering brought by gastroesophageal reflux disease (GERD or reflux). Most patients report their ability to cease use of medications, including proton pump inhibitors (PPI), H2 blockers and other widely used antacids, eliminating the recent reported risks of these medications.
Dr. Tsai is committed to providing his patients with the latest advancements and expertise in treatment options.  From traditional laparoscopic and thoracoscopic techniques, to the use of one of the most advanced surgical robots located at John Muir Medical Center, Dr. Tsai treats his patients minimally invasively in all aspects of benign and malignant esophageal and lung diseases.  His Medical Team boasts impressive specialty trained nurses and an experienced Physician Assistant who has an extensive background at the Memorial Sloan Kettering Cancer Center.
Each of his dedicated treatment programs enable patients to receive more focused and streamlined care, enjoy shorter hospital stays and lesser complications, and receive more comprehensive and accurate care.  His programs have drawn patients from many States outside of California and from a growing number of foreign countries.
Certifications & Education:
Certifications:
American Board of Thoracic Surgery
American Board of Surgery
Education:
Medical School: Robert Wood Johnson Medical School
Residency: UMDNJ Robert Wood Johnson Medical School
Fellowship: UPMC Presbyterian – UPMC Montefiore, NIH Cancer Institute and Memorial Sloan Kettering Cancer Center
Specialized Physician Assistant & Registered Nurses
The Physician Assistant and Registered Nurses that work with the Heartburn Center of California have been specially trained to deal with thoracic patients and their particular needs, especially when it comes to GERD, esophageal and digestive related ailments.